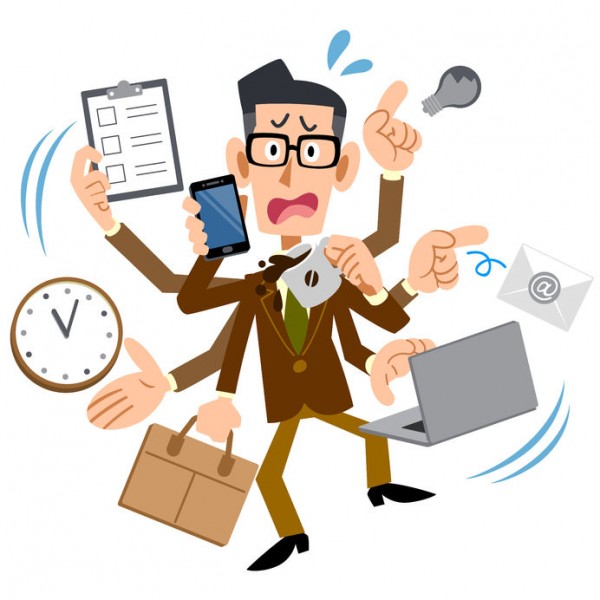 My husband, Sukant Bhattacharya, 34 years old, MBA, works as a marketing executive for a chain of hotels. I have noticed that since the last 3 years, his manner of interacting has changed. He always seems to be in a hurry in everything he does ranging from eating to talking. He cannot sit still for a moment and even in the car, he is talking on the telephone. He does not exercise saying he has no time, his weight has increased to 20 kgs above his ideal weight for height and build. He is irritated most of the time and preoccupied with his work and its problems. Recently he also complained of fatigue and difficulty in breathing. I have told him to slow down in his work but he says it is difficult for him, as he has to remain a part of the rat race even to survive. How can I help him?
Sukant suffers from what is called as the Type A behavior. The two main features are a sense of time urgency and excessive competitiveness and hostility. There is a lot of impatience and antagonistic interactions. There is a characteristic facial tautness expressing tension on the mind. It also indicated an underlying aggression. The eyes are vigilant and roving even during ordinary conversation, there may be knee jiggling or finger tapping. The speech is rapid involving elimination of terminal words of sentences. The speech may be explosive and unpleasant with frequent obscenity and cynical comments. The lips may be clicking and the head nodding while speaking. There may be tuneless humming and a tense posture. The speech may be accompanied by a lot of gesticulations and expiratory sighing. There is often a clenched fist and table pounding. There may dark circles under the eyes and increased perspiration. Sukant may be very irritated by a reminder of events in which he was angered. There are absolute angry generalizations about a vast number of issues. There is irritation on waiting for anything ranging from traffic or food and a general distrust of other people's motives. He is often engaged in a relatively unending struggle to obtain an unlimited number of poorly defined things in the shortest period against the opposing efforts of other persons. These characteristics go beyond the normal enthusiasm, ambition, reasonable competitive drive, extended working hours and creative judgment. Due to this behavior, Sukant would probably either be managing crisises all the time or when not in a crisis, he would associate himself with a lot of trivia and time wasters; waiting again for a crisis to pop up when he can jump into the thick of things. Type A behavior has the consequent risk of heart problems and heart attacks associated with it and this makes it a very dangerous pattern of behavior. It is often associated with smoking and alcoholism.
What you can do?
Sukant has to change his life-style a lot. The first is education about the type A behavior that can help him identify this problem within him. He has to be told about his mannerisms and data regarding speech and language given to him. He also has to practice regular relaxation techniques. This would help him relax the taut muscles. He can use the technique of guided imagery to think of a positive, non-stressful image. He will have to modify a lot of habits, unlearn some habits and learn new ones in that place. The first thing is to be able to prioritize his schedule. He has to realize that he will never be able to do everything in life and he may be missing the big rocks for the sake of pebbles. He has to learn how to say "NO" to things that are not important. You have to help decide what is important for him in life and spend more time after that instead of always trying to solve crisises. Another important task is to train him in doing only one thing at a time. This will reduce the preoccupation a lot. You must also plan for a lot of recreational activities including exercises. If he does not keep his body physically fit, it can drag him down at a crucial moment. Now, his age will allow him to abuse his body but soon that may give way to fatigue and breathing problems. He has already started to feel the effect so take that as a warning sign. This would help him reduce the stress on him. If need be, he should also take medicines that would reduce his anxiety and apprehension about performance. He should take help for developing coping mechanisms to deal with the stresses of his life. The major help comes from being able to modify his thought processes. Sukant believes that he has a very short time left now in his career to get what he wants. He does not realize that it is a never-ending need. He is piling the pressure on himself and rushing after mirages. He has to accept that instead of trying to manage time, he needs to manage himself. You have to provide a lot of emotional support to him. A good relationship where he can talk out his difficulties and obtain a neutral view would probably help him deal with the situation. Again, remember here that it is a consistent approach that would work rather than good technique. Type A behavior is often a precursor to heart breakdowns and it requires a multifaceted, comprehensive approach to reduce that behavior. A preventive approach can significantly reduce the chance of a sudden heart collapse.