 A CERTIFICATE WORKSHOP ON UNLOCKING THE UNCONSCIOUS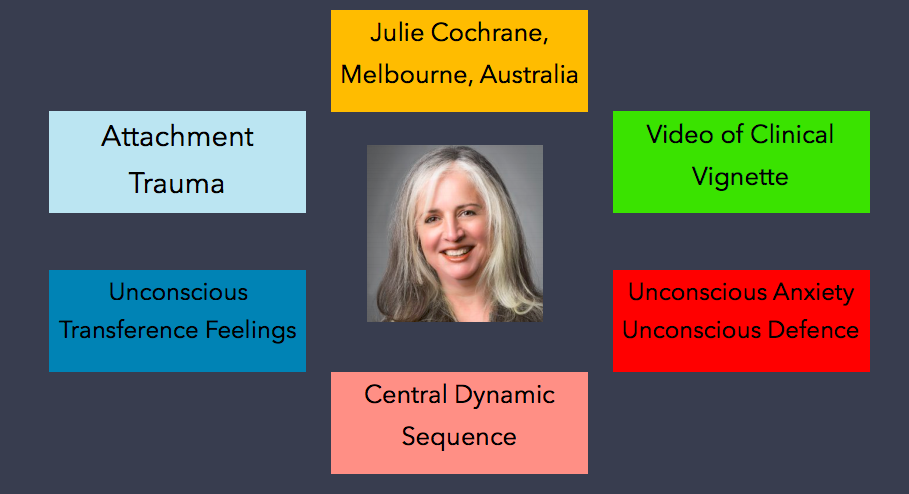 SUNDAY, FEBRUARY 23, 2020
9 AM TO 5 PM
For consulting psychiatrists , psychoanalysts, psychotherapists, psychologists, hypnotherapists, social workers, nursing professionals, counsellors, suicide helpline workers, art therapists, all mental health professionals and students in the field of mental health
Dr. Darshan Shah – The Purple Centre
305, Sigma Icon 2, Above Qaraar Banquets, Opposite Medilink Hospital, Shyamal
Crossroads, Ahmedabad – 380015
Mob:- +919824037887 Mail ID:- darshang_1@yahoo.com.
'FREUD DISCOVERED THE UNCONSCIOUS: DAVANLOO HAS
DISCOVERED HOW TO USE IT THERAPEUTICALLY ' – David Malan, 1980
UNCONSCIOUS
The onset of neurosis, character neurosis and fragile character structure can be traced back to psychological trauma connected to the relationship with important attachment figures in the persons early life. Traumatisation stems from interruption of the person's emotional attachment or longing for closeness that are composed of deeply positive feeling of love. The trauma can be a temporary, persistent or permanent disruption to the attachment bond, or other disturbances in the relationship. The result is damage to the person's experience of closeness and subsequent ability to be close to others. This traumatisation causes painful feeling of loss and can lead to reactive response composed of guilt leaden rage towards the loved one
The conflictual nature of this fusion of intense emotion brings rise to unconscious anxiety within the psychic system. Unconscious defence mechanisms function to reduce anxiety and block the emergence of these feelings into conscious awareness. This unconscious anxiety and defence form what are commonly recognised as psychiatric and medical symptom disturbance as well as personality disorders.
Intensive Short-Term Dynamic Psychotherapy ( ISTDP ) has been developed through empirical, video-recorded research by Habib Davanloo. ISTDP's primary goal is to help the patient overcome internal conflicts, to experiencing ALL of their true feelings about the present and past that have been warded off because they are wither too frightening or too painful. The technique is intensive in that it aims to help the patient experience these warded-off feelings to the maximum degree possible; it is short-term in that it tries to achieve this experience as quickly as possible; it is dynamic because it involves working with unconscious forces and transference feelings. ISTDP is an accelerated form of psychodynamic psychotherapy designed to provide rapid access to the unconscious. It is more active and focussed than traditional psychodynamic psychotherapy. It has shown to be effective in the treatment of anxiety, depression, character disorders and somatization. It aims to provide not only symptom relief but also personality restructuring.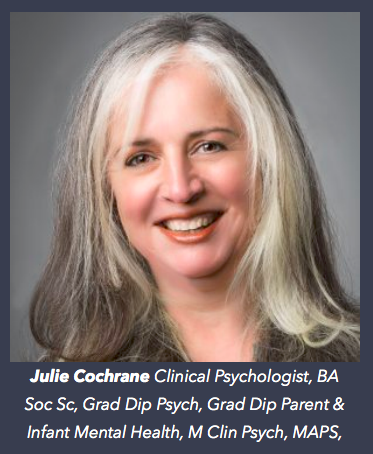 She is a warm and empathic therapist who works with individuals experiencing a range of emotional issues including depression, anxiety, trauma including PTSD, somatisation, anger and relationship difficulties. She has a strong interest in helping mental health professionals to learn ISTDP and teaches and supervises, both within Australia and internationally, in Intensive Short Term Dynamic Psychotherapy.
"Julie Cochrane is that rare therapist who combines presence, empathic attunement and active engagement with highly refined skills designed to assess and treat a wide variety of patients effectively and efficiently. In addition to her superb clinical skills, she is a talented teacher and supervisor. With her extensive training in Intensive Short Term Dynamic Psychotherapy, an empirically validated treatment for a wide variety of emotional and psychological disorders, she is at the forefront of the field. Whether you are a patient seeking treatment or a therapist searching for top notch training, you will be well served to contact Julie Cochrane."
Patricia Coughlin Phd, Clinical Psychologist, Author of "Intensive Short Term Dynamic Therapy" "Maximizing Effectiveness in Dynamic Psychotherapy" and (coauthored with David Malan) "Lives Transformed"

https://www.dynamicpsychotherapy.com.au
https://istdp.com.au
THE PURPLE CENTRE
A CERTIFICATE WORKSHOP ON
UNLOCKING THE UNCONSCIOUS
SUNDAY, FEBRUARY 23, 2020
For consulting psychiatrists , psychoanalysts, psychotherapists, psychologists,
hypnotherapists, social workers, nursing professionals, counsellors, suicide helpline
workers, art therapists, all mental health professionals and students in the field of mental health
Organizers for the workshop:
Julie Cochrane – ISTDP Clinician, teacher, supervisor, Melbourne, Australia
Dr. Darshan Shah – The Purple Centre – Psychiatrist and Psychotherapist
Ms. Nithyakalyani Jankiraman – Social worker and Clinical Psychotherapist
REGISTRATION DETAILS
Rs. 3500 per person. No spot registrations.
Registrations close on 16th February, 2020. Limited seats only.
Registration fees are non-refundable and non-transferable. Registration is
considered once fees are fully paid. Registration fees include delegate kit,
study material, tea/coffee and lunch.
For registration contact: Dr. Darshan Shah on what's app/sms/voice call on
+919824037887 or mail on darshang_1@yahoo.com or in person at The
Purple Centre, 305, Sigma Icon 2, Above Qaraar Banquets, Opposite
Medilink Hospital, Shyamal crossroads, Ahmedabad – 380015