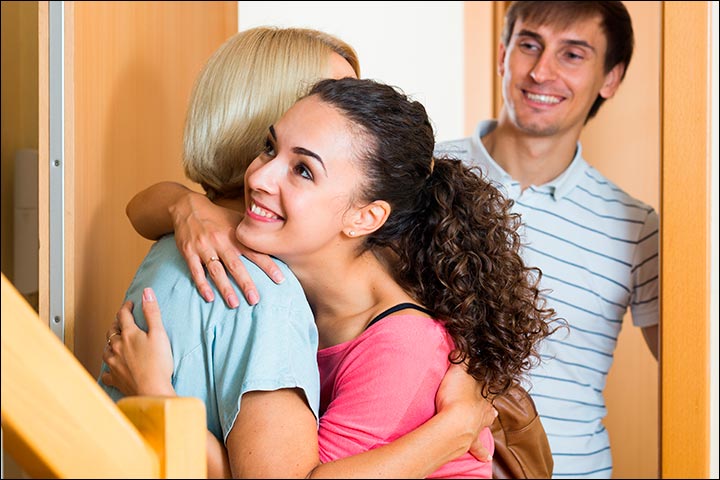 Scene 1: It is 10:40 p.m., Thursday evening. Hema and her whole family are watching the popular serial Kyunki Saas Bhi Kabhi Bahu Thi. After that episode, there is a discussion about the conflicts between Tulsi, the daughter-in-law and Savita, the mother-in-law. A hot discussion ensues between Hema and her mother-in-law Gita ending in Gita making a snide remark about Hema and Hema walking off in tears.
Scene 2: It is 9:30 p.m., Sunday evening. Hema is with a group of her friends, all indulging verbally in their respective mothers-in-law bashing. Each one is trying to outdo the other in relating incidents where feel they have been wronged and are nursing their wounds.
Scene 3: It is 2.30 p.m., Monday afternoon. Gita is in a kitty party where she and her friends are discussing the demerits of serials like Kyunki Saas Bhi Kabhi Bahu Thi because of its impact in making their daughters-in-law more verbose and bold. They are aghast at the very comparison of their own days as daughters-in-law when they could not even dare to look into their mothers-in-laws' eyes forget talking back to them.
Why is the relationship between a mother-in-law and a daughter-in-law viewed with such fear, apprehension and hatred? Why is it the butt of many a nasty joke or anecdote? Why does either one of them appear to be a villain: either a mother-in-law who treats her daughter-in-law like a slave or a daughter-in-law who boots the mother-in-law and has her husband wrapped around her little finger? The truth is that our depiction of all these as absolute and all pervasive is far from the truth. In-laws may it be daughters-in-law or mothers-in-law, sons-in-law or fathers-in-law are all human beings. It is indeed a pity that even before marriage, the minds are poisoned against these relationships thereby conditioning one's mind to look for distorted views of any incident, which will fit into such a villainous image. The consequence is that all the four end up having messed-up relationships. The marriage then becomes a battleground for the family to get back at each other. It is sometimes difficult to understand that it is just a matter of making small adjustments with patience and tact that make life simpler and happier rather than trying to change people and their attitudes. Such an adjustment is not a compromise; it is wisdom.
What a daughter-in-law can do:
First of all understand that living with in-laws is a tough balancing act. With practice and patience you can master it. It requires lots of tact, good humor and maturity to make the family relationships work. The initial goal is not to be able to love your in-laws but to have a good working relationship with them. Every home has its share of problems. There is no point in discussing your family problems with outsiders. You need to work on these problems yourself. Very little can be gained by cribbing about your in-laws unless it is with someone who can guide you in a constructive way. A common mistake is to pile your own mother with every small detail of your husband's home. Learn to be discreet about the privacy of your in-laws. Learn to maintain your in-laws' self-respect. Do not flaunt your father's wealth or make them feel inadequate about not being able to afford your tastes. Do a self-analysis periodically. Try and find out your share for the quarrels that you are having and whether you can correct it without boiling or feeling that you are the only one making compromises all the time. The right perspective can change the nature of the disagreement also. It is sometimes difficult to know who started the conflict, but if you wish, you can always put an end to it. Learn to keep your head cool and not get provoked at the slightest friction. It is often helpful to keep a constant give and take relationship. Small gifts, errands or wishes can really do wonders. It makes the other person feel appreciated and keeps channels of communication open. You might be fearful that the closeness between your husband and his mother might get in the way of independence for the two of you. You need to understand that both you and your mother-in-law have your own special place in the family: there is no competition for your husband's attention. Do not bring the relationship between your husband and his mother into the relationship between your husband and you. It makes matters worse when you blame your mother-in-law's parenting for what your husband is. If your husband is thwarted from being a good son, he will have problems in being a good husband also. If he is sensible, he will realize his follies. Encourage your children to spend time with your in-laws. Some daughters-in-law use their children to get back at their in-laws. It is counter-productive and harmful for the children. Sometimes quarrels happen because you are unable to let go of small things. There is no sense in losing your peace of mind over minor battles. Save the really important things such as matters of life and death, issues which compromise your integrity and honesty to stick to your resolve. If you let the constant squabbling get to you, probably you will be stressed and unhappy. All said and done, if you feel that your politeness is being mistaken for weakness, you are being taken for granted, and then probably it is time to stop being a doormat. Be as fair and patient as you can, but if there is no letting up from the other side, you need to act now to rectify the situation. Find a way of putting an end to unnecessary unpleasantness. When the going gets tough, do not let it drag you down.
Greatness comes out of service. You do not need a degree to serve, only a heart full of grace. The hardest of hearts can melt with unwavering good faith.